Joël Hamon, who founded Féérie 19 years ago, is the President and Artistic Director of the company.  Both leader of the future orientations and director of the soundtracks, he works with his son David and with Yvonnick on the scenography of high-scale projects.
David is been in charge of all the major events designed by Féerie: 50th anniversary of Paris-La Défense, International Festival of Pyrotechnics in Cannes, Stade de France, Chantilly, Morocco, Algeria, Guadeloupe, Denmark, Canada, Singapore…He even participated to the realisation of shows in Spain, Italy and in the United-Kingdom in collaboration with some renowned pyrotechnics companies.…
Mélanie is responsible for the day-to-day running of the office and acts as the perfect liaison between the pyrotechnicians and the customers. In charge of the international market, her language skills enable Féerie to stage their shows all around the world. Her presence in the office is indispensable.
As a talented scriptwriter, Yvonnick joined Féérie to work on communication and international projects. He is also the "field expert" who deals with clients. He is responsible for one part of the shooting sites of the féérie shows.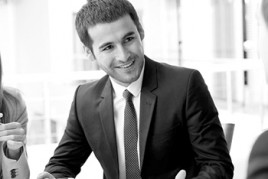 Graduate, Geoffroy joined féérie through work placements in our company. Commercial Attaché, he operates with professionalism throughout the large area west of France.
Valentin, skilled fireworker, computer enthusiast and fireworks design, works with the whole team to increase the productivity of féérie and specialy with David concerning design of the shows.